Sales team management is the process of organizing and controlling the activities of a sales team to achieve specific objectives. Some of these  sales management activities are hiring and training new professionals, setting goals, providing support, and keeping the team motivated.
The manager of a sales team is responsible for ensuring that the above tasks are performed as smoothly and efficiently as possible. And, also responsible for coaching and motivating the individual team members to achieve their targets.
However, to be effective, managers must have a good understanding of both the sales process and human (reps and customers) behavior.


6 Sales Team Management Tips
Here are six tips that they can implement to maximum results from their sales team management efforts:
1. Set Clear Goals
The first step in managing a sales team effectively is to set clear goals. The goals should be based on the S.M.A.R.TModel.
This means that your goal should be:
S — Specific: Specific and clearly defined.
M — Measurable: Something that can be measured so that you can track the team's progress.
A — Achievable: Realistic and achievable.
R — Relevant: Relevant to the company's objectives.
T — Time-bound: Deadline specific.
Examples of good vs. poor sales goals:
"Increase sales by 20% within the next six months." — This example is clear and specific.
vs.
"Increase sales significantly in the next few months." — It is vague and doesn't offer clear direction to the sales team.
Remember, without clear goals, it will be difficult to measure the team's performance and identify areas for improvement.

2. Hire Coachable Sales Reps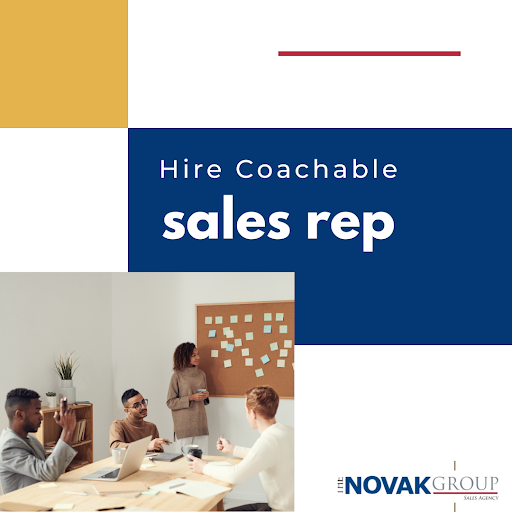 The second step in sales team management is to hire the right people. When hiring a team, it's important to look for individuals who are not only good at selling but also have the right personality and attitude.
Great sales reps are:
Motivated: They are self-motivated and driven to succeed.
Perseverant: Sales is a challenging job, and the best executives are those who don't give up easily. They're always looking for ways to overcome objections and close deals.
Adaptable: They can adapt to changing situations and environments. They're flexible and can think on their feet.
Data-Driven: They love numbers and data, and they use that to make informed decisions.
Coachable: They are open to feedback and always willing to learn. They're always looking to improve their skills and grow as professionals.
If you're looking to hire new sales professionals, be sure to screen for these qualities during the interview process.


3. Build a Great Sales Model
After you have hired the right people, the next step is to build or select a great sales model.
There are several different models that you can choose from but not all of them will be a good fit for your business. So, it's essential to go for a model that aligns with your company's objectives, your team's strengths and your customer behavior.
Few existing systems that you can explore are:
The Solution Selling Model: Finding the right solution for the customer's needs.
The Consultative Selling Model: Building relationships and understanding the customer's business.
The Product-Oriented Selling Model: Selling the features and benefits of a product.

4. Training Your Team
Training is an essential part of managing a sales team that performs at its best. You need to have a team that's well-versed with your sales model. They should know how to find potential customers, build relationships, and close deals using that model.
A great way to train your sales team is to have them shadow experienced salespeople. They can learn a lot by simply observing and working with someone already successful. 
You can start a mentor-mentee program in your organization with the below steps:
Step#1: An experienced rep is paired with a mentee.
Step#2: The senior sales executive shows how to find potential customers, build relationships, and close deals.
Step#3: The trainee then observes and learns from the senior.
Step#4: After shadowing, the trainee is allowed to practice what they've learned with real customers.
This type of hands-on training is an ideal way to teach new sales reps the ropes. It's also a great way to build team morale and instill a sense of camaraderie among the team members.

5. Provide Your Team with Great Sales Tools
To achieve your sales goals, your team needs a system to track their progress and manage their leads. They also need the right tools to help them sell more.
There are a number of great sales tools that you can provide your team, but some of the most popular include:
A CRM (Customer Relationship Management) system to help reps track their interactions with customers and manage their pipeline.
A lead management system for executives to track and follow up with potential customers.
A proposal software for your team to create and send proposals to potential customers.
Investing in the right sales tools can make a big difference in your team's performance.

6. Sales Performance Tracking
Last but not the least, you need to be able to track your team's performance with relevant KPIs (Key Performance Indicators) for the sales team management to work. These KPIs can help you identify areas where they're excelling and areas where they need improvement.
Some of the most popular KPIs for sales teams include:
Number of calls made, new leads generated, deals closed
Sales revenue generated
You need to choose KPIs that are relevant to your business and sales goals. Creating these KPIs is mostly a one-time task unless you add/remove KPIs frequently.


Sales Team Management Training by Tod Novak Group

If you're looking for professional sales team management help, you've come to the right place. The TodNovak Group — run by Tod Novak, a veteran sales training consultant — is a sales training and development company that specializes in helping businesses and managers take their sales game to the next level.
Successful sales team management requires a lot of hard work and dedication. However, with the above tips, you can set your team up for success. Implement these tips and you'll be well on your way to achieving your goals.