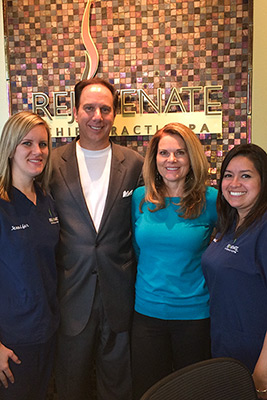 The Novak Group, sales and communication experts coach and train medical spas throughout the nation focusing on sales, communication, customer service, and follow up techniques.  Mr. Novak's training will provide you and your staff the skills and tools to help grow your medical spa practice and take it to the next level!
Sales:
Aesthetics is a sales business.  
Most medical spas do not hire staff with sales experience. The single most important thing to realize is that this business is about selling. Sales Skills = Booked Procedures. No matter how good you may be at marketing, you need strong consultation skills to convert your prospects into patients.  Tod's sales knowledge and training expertise will give your staff the confidence and tools to convert leads into consultations and consultations into booked procedures.
Communication:
Mr. Novak will motivate your staff and provide them tools that they can implement immediately to communicate more effectively with patients and co-workers. Tod has come up with a system that anyone can learn… a way to connect with everyone we meet, in person, over the phone or via email. You will have the skills to identify and make The Human Connection within 60 seconds.  Once you learn this you will notice people really listening to you and automatically your closing percentage will increase and you'll book more procedures.  The bottom line is it doesn't matter how great your product or service is, if people aren't listening to you, and you are not connecting with them, they're not buying. Let's face it, we all prefer to buy from people we like and the same is true of our patients.
If you have the habit of using the same communication style with every prospective patient, you may be losing 75% of your sales.
Ultimate Customer Service:
The Ultimate Customer Service turns new patients into repeat customers.  Patients today demand ultimate customer service. They'll reward practices that provide it by remaining loyal, and they'll take their business elsewhere if service is mediocre. The Novak Group's ultimate customer service training will re-energize your staff with the required skills for excellent customer service. This training is for practices who want to create a stronger service culture that builds loyal relationships with their patients and a better environment for their employees.
Extensive Follow Up:
Most patient coordinators/salespeople are good (or great) at one, two or sometimes three stages of the sales process, but not all four stages. This usually depends on their experience, personality type or selling style.
Successful patient coordinators/sales professionals must be great at all four stages of the sales process to gain maximum results. In Tod's personal experience training and coaching patient coordinators /sales professionals across the country, he has found that follow up is the key to practice growth and retention. Unfortunately, over 90% of the time follow up is the weakest link.
Follow up Facts:
58% of all salespeople quit completely after a single call on a prospect.
20% make two calls before giving up.
7% make three phone calls.
15% make five calls or more.
The 15% of the salespeople that make five calls or more produce about 75% of all the business.